Welcome to Year 4 Blues!
Dear Parents/Carers,
A very warm welcome become back! We hope that you have all enjoyed the summer holidays and are happy to be back with us for another fun filled year of learning. The year 4 team are delighted to be back and are very much looking forward to beginning the new term.
Firstly, we would like to notify you of a few changes for the coming year:
Reading
We feel that all children would benefit from reading regularly, and so we will be sending home individual reading books with your child/children this week. We want to encourage reading as much as possible
Activity Bag Homework Tasks will be given as usual each half term as we know that your children enjoy the chance to be creative and have lots of fun making masterpieces!
P.E.
Your child/children will have P.E. on the following days:
Year 4 Reds / Miss Gregory Year 4 Blues / Miss Harvey
Indoor: Thursday Outdoor: Tuesday Indoor: Friday Outdoor: Tuesday
Can we please ask all parents/carers to send their children with a pair or trainers on outdoor P.E. days. Trainers can either be kept in school or taken home each week.
Secondly, if you have any questions or concerns, please do not hesitate to speak to any member of the Year 4 team at the end of the school day when collecting your children. We are here to help and to make sure that all children are happy and achieving their full potential.
Thank you,
Miss Gregory Miss Harvey
Mr Sharp Miss Hester
Our Fun Learning Experiences!
In Year 4 Blue's, we have taken part in lots of fun learning experiences such as; World Book Day, Maths Week, Mini Professors Week and Anti-Bullying Week. We have learnt so much this year!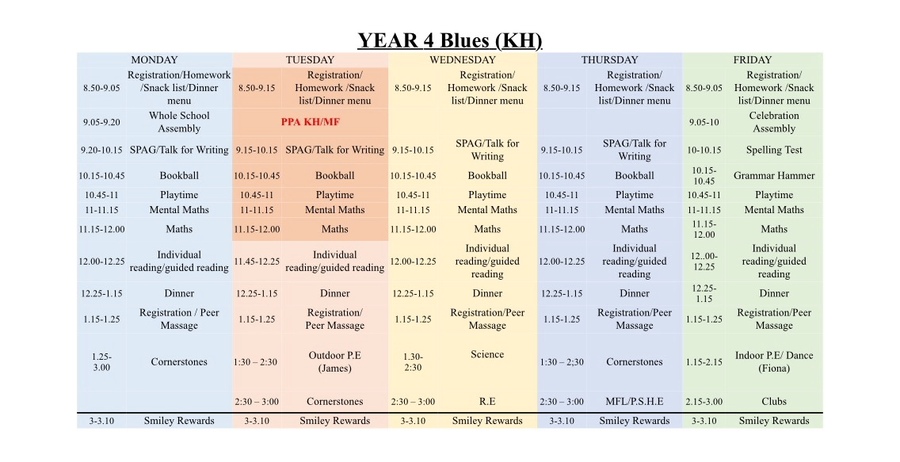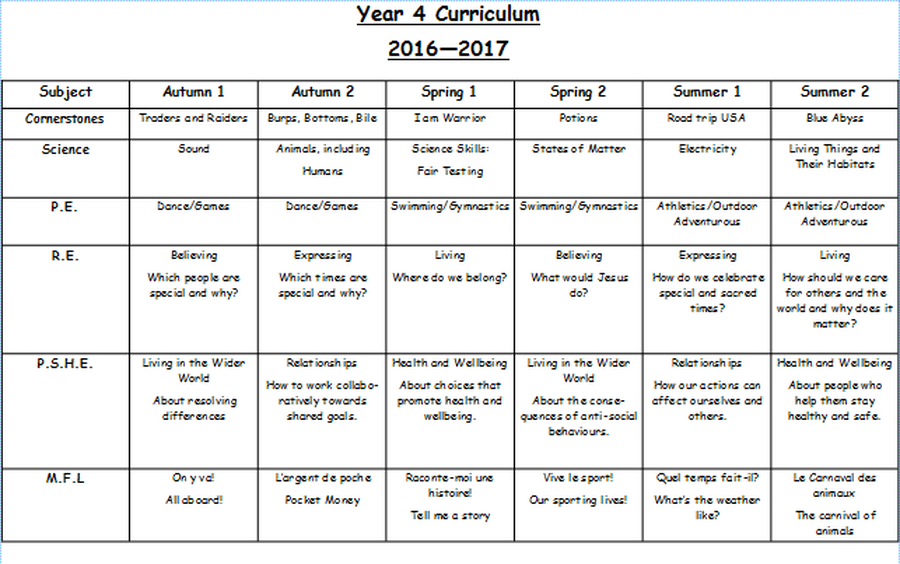 Activity Bag- Spring 2
As part of out current theme, we have been learning about potions and their uses. We have studied Plague cures and written recipes which have included key features of the genre.
We would like you to have some fun at home by creating your very own perfect potion!
Think about any weird and wonderful ingredients you could add to your tonic (real or imaginary) and give it a suitably spectacular name!
Think about:
¨ Sealed containers; jars, plastic bottles, tubes etc.
¨ Labels; name and decoration, contents, warnings…
¨ Ingredients; flower petals, mud, glitter, colouring.
Have fun and get creative!
Year 4 Team.
Activity Bag- Spring 1
In year 4 Reds, we are currently learning about the Roman rule in Britain. We would like you to create a Roman style weapon or armour similar to one that the Romans may have used when they invaded our lands. Your weapon can be made out of any appropriate materials and can be any size.
Ideas to consider:
A protective helmet
- You could use tin foil to make it look as though it is made from metal?
- Use a plastic sweeping brush for the strip down the centre?

A dagger or sword.
- This could be made from card board or Papier-mâché?
- Use metalic paint for the blade and string or brown paper to cover the handle?

A shield
- Cut out a cereal box and cover with red or blue paint/tissue/paper?
- Use red card. Draw a symmetrical design on the front. Colour with metallic crayons/pens?

Try to find things around the house that you could 'up-cycle' to create something completely new. Your task is due in during Spring week 5, W.B: 6th February 2017. Get creative!
Activity Bag- Autumn 2
Our theme this half term is TRADERS AND RAIDERS!!! We are going to be learning about the vicious Vikings who invaded our lands during the dark ages. We will learn about where they came from, why they came here and how they treated our people.
For your activity bag homework task, we would like you to design and make your very own model of a Viking long house.
We have included a few images so that you can see what a typical house of the time would have looked like and the types of things that would have been outside in the surrounding area. Also, we have given you a few facts about the way they lived hundreds of years ago.
Cast your minds back to a wet and miserable cold land…
Research building materials…
GET CREATIVE!
Make your models out of any suitable material, though we would suggest card as it is easy to bend and paint! We have included some materials for you to use.
TASK: Make a model Viking long house
If you have any questions, please ask a member of the Year 4 team.