Parent Questionnaire
Parent Questionnaire – June 2017
Strongly Agree

Agree

Sometimes

Disagree

The school is welcoming

38

68%

18

32%

My child enjoys coming to school

44

80%

10

18%

1

2%

My child feels safe at school

39

68%

16

28%

2

4%

The school understands and responds to my child's needs

33

59%

14

25%

9

16%

My child is taught well at school

37

66%

17

30%

2

4%

My child is making good progress

37

66%

12

21%

7

13%

My child is encouraged to work hard and do their best

39

70%

17

30%

My child enjoys a range of extra-curricular activities

28

53%

16

30%

7

13%

2

4%

The school communicates with me effectively about school events and activities

27

49%

13

24%

14

25%

1

2%

The school seeks my views and listens to my concerns

26

46%

22

40%

8

14%

There is a good standard of behaviour at Adswood Primary School

27

48%

25

45%

4

7%

The school deals with any incidents of bullying effectively

28

53%

18

34%

4

7%

3

6%

There are opportunities for parent to get involved in school life and events

36

65%

18

33%

1

2%

I think the school is well led and managed

36

64%

20

36%

My child is encouraged to lead a healthy lifestyle

33

59%

20

36%

3

5%

I would like parent workshops in English and maths

17

33%

20

39%

3

6%

11

22%

My child is encouraged to positively contribute to the wider community

22

42%

24

46%

6

12%

I would recommend Adswood Primary School to another family

38

68%

18

32%
Parent Questionnaire – September 2016 (Baseline)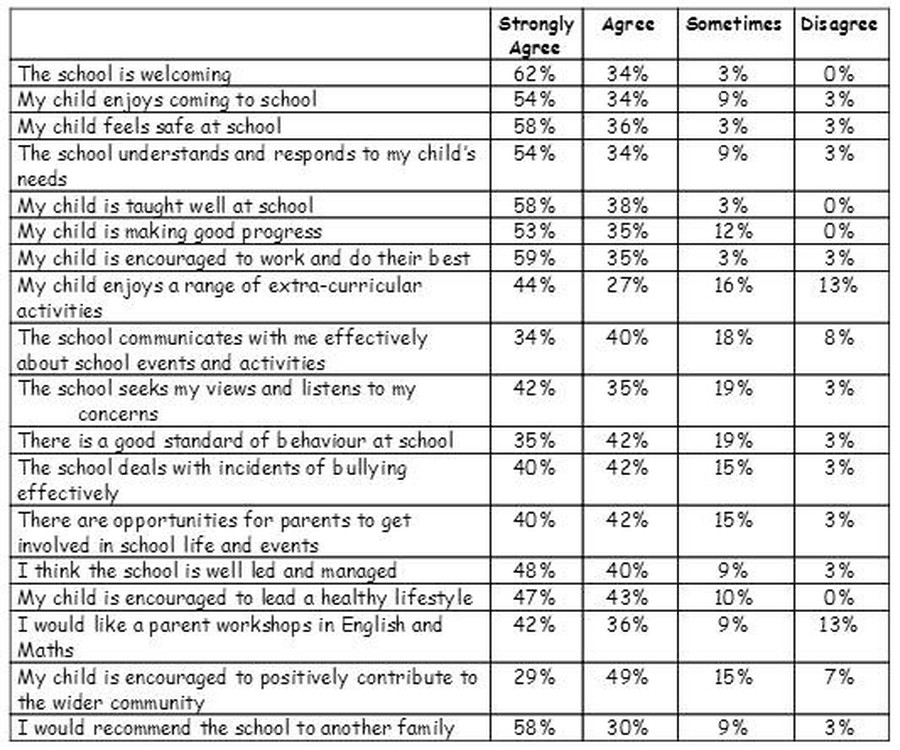 89 questionnaires were returned - thank you!
What should we do less of or stop doing?
Honesty at parents evening. Don't just say 'doing well'. Let the parents know more.

Bring children out at home time better and on time.

Being late collecting children

off

playground – especially Mondays.

Home time collection – needs changing

Favouring challenging children when the children who behave go unnoticed.

The plastic home folders – sharp and plastic

Less homework

Stop employing parents off

Adswood

– don't think

it's

fair on children and parents. I don't feel like I can come in over certain things as don't want the parents in work knowing.

Employing unqualified staff in the classroom –either employ qualified people or make sure they are working towards a qualification.

End of day

Other children are on behaviour log – it should be confidential

More notice given for events

Time to

speak

to the teachers at end of school day

Sharing sun hats

Too many people from the local community

working

in school

Listen to parents concerns

Homework

Red and Blue years are confusing for parents

Communication

See through book bags

Assemblies at peak times

Football matches when parents have to work

Badly behaved parents

Peer Massage

End of day

Short notice for things

Sorting out nits
What should we start doing?
Interact with

parents

Taking more care of pupils jumpers

After school clubs

Look through

children's

work at parents evenings

Halal meals for lunch

After school

activities

Sort end of day- seeing children out

More trips

Ride to school week

Road safety

Reading books

More projects

Stagger leaving times

Weekly exams and sharing

results

with parents

Teacher

identifies areas of development

for

child

More

communication

of

child's

skills and

improvements

Weekly progress update

Be

honest

to parents about

child

's

progress.

More foreign languages

Cooking and growing herbs and vegetables

More sports

School fun days

Parents to visit classrooms to see children working

Change doors

children

come out of

More geography lessons in school

Internet safety

Sex education/Personal Hygiene

G

i

ve more information abo

u

t the way work is marked

Understand

that some

haven't got the money a

w

eek in advance for clubs

Holiday clubs

An insight into a typical school day

Day trips each month

Residential

trips

Gymnastics club

Sending letters as well as texts

Older children and reading certificates

More notice given for parents to see sporting events

etc

More communication

Reception

class children settling in sessions for parents

Story morning before school

Parents to be involved – open days

Help with school trips. Fun days
Signing club
Small group trips for excellent behaviour
Class of the week have a fun afternoon on a Friday
Breakfast club children to remain in school until classes are in
Assemblies shorter
Book bags
Starter pack for parents
Not all sports
A nursery book for home
More homework
Maths groups
Information about school dinners
Charity work – bring the community together
Newsletters
What are we doing well and should continue?
Friday assembly

Less homework

More science

Praise – stickers

Positive encouragement

Skills road map for stickers

Football team

Standard of education

Staff are

amazing

and should continue what they are doing

Assemblies

Sign language

Making my children happy

Fun, loving, happy approach

Smiles

Smiler of the week

Each member of staff take the time to

know eac

h chid by their first name

Everything

Running the school

Pushing

children

to achieve

Everything – I love the school and my daughter does as

well

A warm welcoming school w

i

th the

children

at the heart

It was time to change the

headteacher

– Mrs Smart is a great choice – the changes so far are just right

Makaton

School meals

Reading books

Being brilliant

Educating

I can

'

t

fault

the school –

accommodates

any needs – my child has

progressed

massively

P

leasant

, smiley staff
Any other comments
End of day needs to be changed

Looking forward to seeing changes and watching our children grow

More

involvement

in special

days – world book day

Cake bakes - parent

learning

afternoons

Seats for

disabled

people in assemblies

Further

communication

w

i

th

parents

What the curriculum looks life for my child

Open afternoons to see what my child is doing

It seems all the pupils who

parents

work there get

privileges

over others

Road safety / bike safety

Netball

teams

More focus on the more able children

Excellence needs to be noticed

Mental health support – someone to talk to

World book day

Reception

class open time

Feedback on school dinners

Parents events

Listen to parents

Employment of parents
In 3 words describe Adswood Primary School.
Good,

happy, bright

Welcoming,

hard-working

, supportive

Welcoming, ha

p

py, understanding

Fantastic, amazing, outstanding

Welcomi

ng,

accommodating

,

friendly

Unique, family ethos

Fun,

friendly

, welcoming

Outstanding

,

brilliant

, fun

Friendly

, educational, happy

Inspiring, fun, committed

Safe, friendly, heart of the community

Brilliant

, amazing, outstanding

Excellent

, hard working

Big, happy family

One big family

Outstanding

, fun,

clean

New head –

b

est decision ever!

Happy, educational, helpful

A

crackin

school!

O

utstanding

, inclusive, nurturing

Ready for change!

Down

to earth

Brilliant

! – only one word needed

Absolutely

amazing

Friendly, community, safe

Happy, loud and proud!

Aspiring

, motivating,

outstanding

Busy

Friendly

, uninformative

and discontent

Welcoming, unique and

outs

tanding

Positive, trustworth

y

, safe

Promising, happy, special

Very good school
Find the results of the 2015 Ofsted survey here